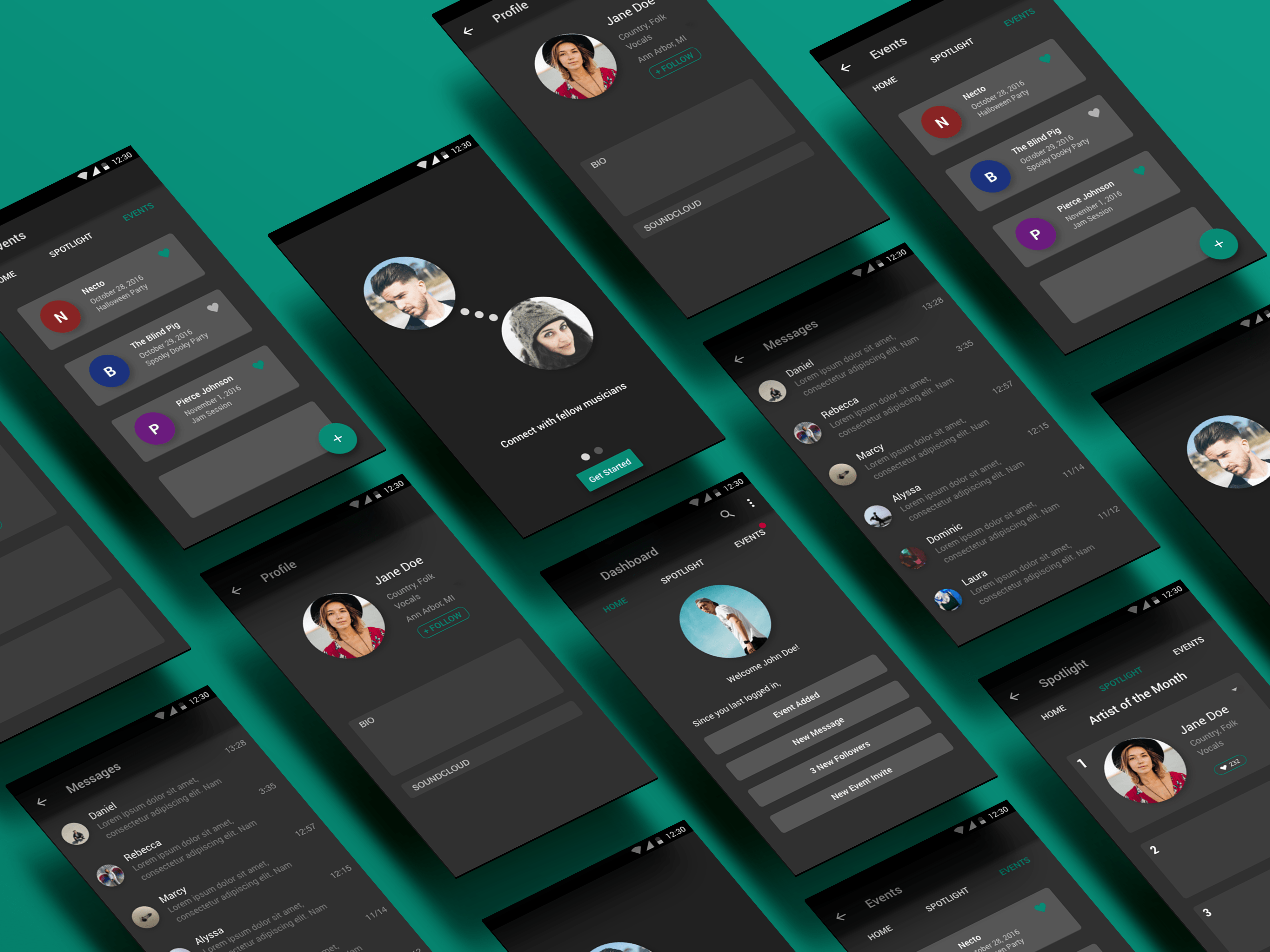 Task: Develop a solution to any problem faced by a local community. The final form of the solution should be an application/ website
What I did: Interviews, survey, sketching, storyboarding, paper prototyping, wireframing, hi-fi prototyping

*Individual project for Interaction design class, Sept-Dec 2016
The main stages of this project included defining the problem, sketching, storyboarding, paper Prototyping and creating a hi-fi prototype, interspersed with peer feedback sessions. The overall process was broken down into the following stages -
Identify the Community
Identify the Problem
Establish the Goal
Design Stages (Sketching to Prototyping)
THE COMMUNITY CHOSEN
I decided to focus on the problems of the student musicians at the University of Michigan. The university has a lot of student organizations such as Maize Collective, Stamp Nation, The Jam Club, that cater to musicians on the campus. I decided to choose this community because I am a musician myself and an active part of one such organization called The Jam Club. I decided on event promoters as my secondary audience as they played a huge role in giving musicians a platform to perform and grow.
SCOPING DOWN THE PROBLEM
To find out where the needs of my target audience were not being met, I conducted interviews with the heads of student organizations catering to student musicians, as well as student musicians themselves. I eventually conducted a total of 6 interviews. A Google form was also sent out to student musicians to ask them about their attitudes and behavior. I devised 3 personas and 1 anti-persona based on the interview data and survey responses.
ESTABLISHING THE DESIGN OBJECTIVE
The sketches and storyboards helped shape the structure of my final idea. I established a project objective – designing a tool for local and upcoming musicians to connect and interact – to guide me while making design decisions further ahead in the process. My final vision of the project was for a platform that would -
Increase and promote social interaction between local musicians
Contain information about the local musicians
Foster collaboration among musicians
DEVELOPING THE FEATURES
Feedback from the users, on my vision and the sketches, proved valuable in narrowing down the features in my deliverable. I finally decided on the following as my primary features
Personal Profile - The Profile would display information about a musician's preferred genres, instruments played, website/ Soundcloud links and a short bio. For Promoters, it would display the Club affiliation, genres preferred, club website and a bio.
Events Section - Options to Create Events/ Invite friends to an event
Spotlight Section - Every month, the community will upvote an artist based on the track they submit. Promoters can book the top ranking artists, after hearing the mix and visiting their profile.
Search for artists - Artists can be searched on the app by name/ genres/ instruments played.
REFLECTING ON THE PROJECT
With this being my first ever project in the Interaction Design domain, I learnt a lot about the various methodologies of design. While I briefly did User Research through interviews and surveys, I realized the importance of involving users early and often to shape the course of the design process. The final prototype I delivered was based on Material Design Guidelines, but my designs did not follow all the rules. I would love to revisit this project in the near future, design a better UI and test it out with my users.